I'm not joking when I write this, 2017 has been the year for weddings. I love everyone who got married and wish them a lifetime of happiness and joy (here comes the buuuuuuut), but man, it was a lot of work just to attend! When you think of weddings, you think about dancing to Shout and having a blast. Yes those moments are there, but lets be real about the work leading up to that as a guest.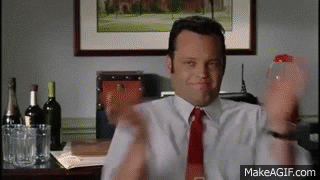 Weddings are expensive to attend, can be a whole day or even weekend event, and takes a lot of energy! That is just the ceremony/reception, and I'm not even going to get into the bridal showers, bachelorette/bachelor parties, and engagement parties! If I am not careful, I can find myself quickly turning into a bitter, grumpy, and snarky person. I believe that the union of two people is a beautiful and sacred, but so are my vacations, saving money for said vacations, relaxing on the couch watching football, playing with my dog....
But how are you supposed to stay positive and not let those thoughts slip into your mind when you have weeks with back to back weddings!? You are spending a lot of money, have to find the right outfit (formal, garden, or more casual attire), and you feel like your weekends are gone in a second! It is very easy to turn into a not so sweet person when you feel like your life is being monopolized by weddings!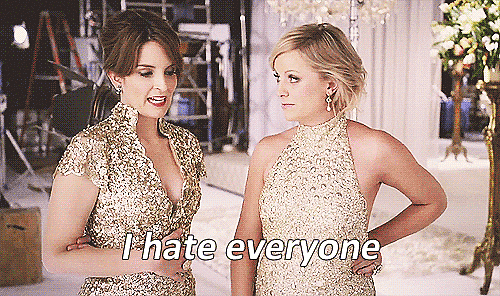 After it "nicely" being pointed out my husband that I needed an attitude check, I came up with some tricks to keep me grounded and remembering that these are fun, loving events for people I really care about. So below are my tips and tricks on how I survived. It was a compilation of what helped me stay in a positive attitude, and be able to fully partake in the fun.
Wedding attire: I should start out by saying, I'm not a fashion blogger with this tip! I wanted to get some dresses for the weddings I had coming up, all with different friend groups. I wanted to update my wardrobe as the ones I had looked tired, but didn't want to break the bank or spend days looking for dresses that fit. I was shopping at Marshalls and found a dress that fit really well, had different color options, and was marked down significantly. Since it was all different friends, no one would notice the similar dress at multiple weddings. Also the dresses were relatively simple, that I could dress them up with jewelry or a scarf that it was not noticeable in pictures (if someone was even looking that close). This might not be an option for every person, but if you want to save time looking for a dress, save money, and look nice this is an option for you!
Utilize sales: You should know by late spring the summer weddings you have coming up, and this is when I start to look for sales. Memorial day is especially great, and we buy most of our gifts during this time. Almost every wedding I have been too has a Macys.com registry, and we go through and start purchasing. The bonus is that it will look like you got them, let's say a $100 gift, for $40. You save money, and you can scratch that chore off your list. Then when the time comes for the wedding, you don't have to do any last minute purchasing and miss out on the good registry items! Also for fall and winter weddings, utilize labor day sales!
Travel: If you have to travel, make a vacation out of it. My husband and I like to travel somewhere at least once a year or we start to get stir crazy. There have been weddings that weren't in areas we wanted to explore, but they did have an international airport. For us, the east coast is a port for areas that we can't easily access from our hometown. We search for cheap flights, then structure our layover just long enough that we could attend, then boom, we are off for our vacation.


Vacation not an option: When you have "the year of weddings," making a nice vacation out of it isn't always making it an affordable option. In this case, we reach out to others attending to see if they wanted to go in on an AirBNB. Then we have a kitchen and split up making meals (or the price for the non-cooking folks). We would also share a rental car, and other expenses. It helped make it less of a hit to the pocketbook.
Connect with the couple: It sounds weird, but the more I was connected to the wedding, the more excited I was. We would try to get dinner or have them over for a "wedding planning" break. We would talk, reconnect, and enjoy each other's company and remember why we are great friends! If we didn't know one person well, it would give us a chance to get to know them better as well. It sounds silly, but it really makes a difference when you are at the wedding if you have caught up recently, and helps prevent the "man I would rather be watching football right now" feeling.
Say No: It is okay to say no! For some reason we get a wedding invite and think by receiving this, we must attend. Well if you RSVP with enough time, no is a completely acceptable answer. If you feel obligated to go to the wedding, you are going to be bitter, not have a good time, and not be there for the real purpose! Don't feel bad if you are RSVPing with plenty of time, the couple will appreciate knowing ahead of time instead of a last minute cancellation.
Be selective: If you feel like no is not an acceptable answer to the ceremony or would really like to attend, try opting out of the other obligations. Maybe don't attend the multiple bridal showers and bachelorette/bachelor party. This is another dress or outfit you have to plan, a gift you have to buy, and time out of your already busy schedule. Also, it seems like the bachelor and bachelorette parties are becoming more and more extravagant, and travel could be expected. Take some self-care, and make sure you are spreading yourself too thin. It is completely acceptable to bow out respectfully from these events.